The reliable My Instore Radio media player is designed to meet your needs for simple, seamless installation and connects to any A/V system you might have.
The hardware comes pre-configured and ready for use. Simply connect to power, internet and your existing sound system (incl. Sonos*).
If needed, we can provide speakers along with any cables or adapters you may need. Contact our Support and Customer Care team if you have any questions or concerns.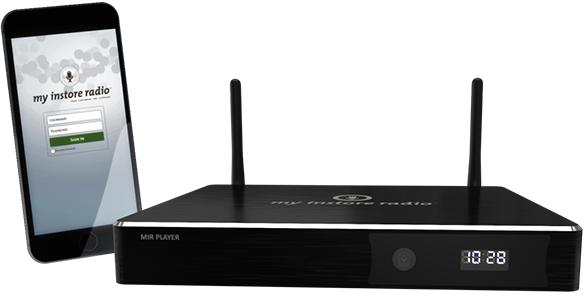 *Use our media player with your existing Sonos system by connecting a Sonos Port stereo upgrade component.
Stream From Your Own Device
Use your smartphone or tablet to stream My Instore Radio into your facility. Setup is easy and only takes a few minutes.
Download the My Instore Radio App Player from either Google Play (Android 6.0 and up) or Apple App Store (iOS 9.0 or later). Connect your device through an amplifier or Bluetooth. Keep in mind that phone calls, alerts and other apps can cause interruptions, so consider disabling other activities on the device.
How to Install the Hardware
scroll here