How To Return MIR Media Player
The MIR Media Player is the property of My Instore Radio and must be returned in good condition upon replacement or if the subscription is not renewed. MIR Media Players must be returned within 14 days after replacement or end of Service Agreement. Not returned MIR Media Players will be invoiced according to our Terms of Use.
Please return the MIR Media Player and power supply to one the following addresses:
Americas:
My Instore Radio
c/o In-Store Radio LLC
Attention: RETURNS/REPAIRS
385 South Lemon Ave, #E310
Walnut, CA 91789
United States of America
Phone: +1 (646) 968-0339
Europe / Rest of the World:
My Instore Radio
Attention: RETURNS/REPAIRS
Montanavej 10
7190 Billund
Denmark
Phone: +45 70 229 221
Step 1:
Please include in the package:
MIR Media Player + Power Supply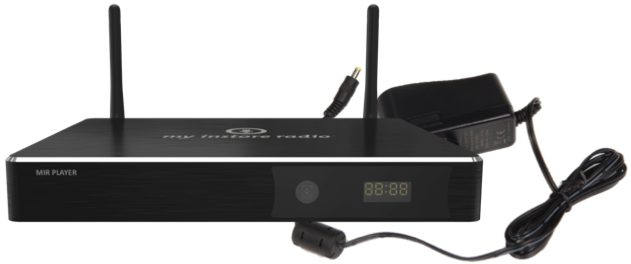 Step 2:
Please include the following on the label:
RETURN / REPAIR
If you are returning the MIR Media Player from a foreign country and "RETURN / REPAIR" is not included on the label, the MIR Media Player will most likely be detained in customs. My Instore Radio is not responsible for delays or any additional costs related to that.
If you have to indicate a value of the MIR Media Player, please type in EUR 80 or USD 100 per device.
We recommend using a shipping company like UPS, DHL, TNT or GLS. These companies do not charge additional handling fees. All costs including any customs or handling charges upon shipment must be paid by the customer who returns the MIR Media Player.