Looking to enhance your customer experience with our best-in-class, in-store communication solutions?
My Instore Radio is a subscription-based custom music streaming and digital signage solution for business. Stream music and video content using the My Instore Radio Media Player or your own device.
Our solutions instantly connect with your existing A/V system and internet.
The right blend of music played at the right time and combined with custom messaging, will keep your customers entertained and in the right buying mood. We ensure a unique music solution based on the option you choose – licensed for business, constantly updated and never repetitive.
Use digital signage to set the scene for an exciting and immersive shopping experience. Digital video content attracts attention and ensures a speedy deployment of new promotions and specials – which is why digital signage is more efficient than traditional print advertisements or signage.
Select the right player option for your business, sign up for an account, and you are ready to manage all the music, video and messaging needed in your stores.
There are two different player options:
The reliable, 'set-and-forget' MIR Player. Our dedicated piece of hardware for either music or video streaming. Full control and maximum reliability. A business player for business needs.
The My Instore Radio App Player. Download the app on one of the devices you already have, sign up and you are ready to play.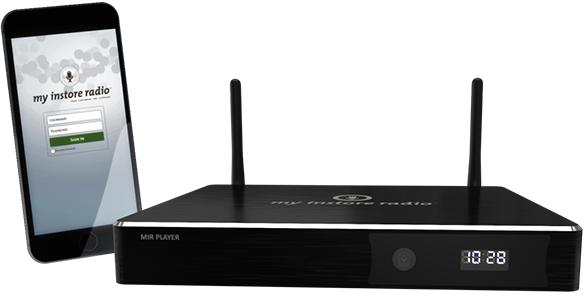 Features included for music and messaging
APP PLAYER
Music / Messaging
All the features for music and messaging
Play from mobile device or tablet

Available from Google Play and Apple App Store

Connect through an amplifier or Bluetooth

Easy install (requires 1GB free space to play music)
MIR PLAYER
Music / Messaging
All the features for music and messaging
Dedicated streaming device for music and video

Safe from internet outages (play from offline backup)

Auto restart in case of power outage

Simple, seamless setup (Compatible with all music systems, incl. Sonos)

Free phone and email support
Features included for digital signage
APP PLAYER
Digital Signage
All the features for digital signage
Play on mobile device or tablet

Available from Google Play and Apple App Store
MIR PLAYER
Digital Signage
All the features for digital signage
Dedicated streaming device for music and video

Safe from Internet outages (Play from offline backup)

Auto restart if power outage occurs

Simple, seamless setup (requires a screen with HDMI)

Free phone and email support